Halloween: A Day to Make a Friend of Your Darkness
INVITATION: HALLOWEEN PARTY COME AS YOUR SHADOW
All Spirits Welcome October 31st at 9 pm

I actually was invited, and did go, to such a party. It was intended by our host (a psychologist) to be both a revealing and healing experience—a chance to see those less appealing parts within us and understand why we harbor them.

Because increased self-awareness and self-acceptance can open avenues to wisdom and wholeness, I RSVP'd yes. But what would I wear? Who would I be? What would the darker side of myself look like?

One way to encounter our dark side, I later learned, is to list several characteristics of someone who really bothers us, and then, ask ourselves why that particular individual evokes such a strong reaction. What was the mirror image reflecting back to us?

Because the shadow is hidden and almost impossible to see, it is helpful to know that slivers of insight can come through flashes of anger or even eruptions of humor. We just have to pay attention to these moments.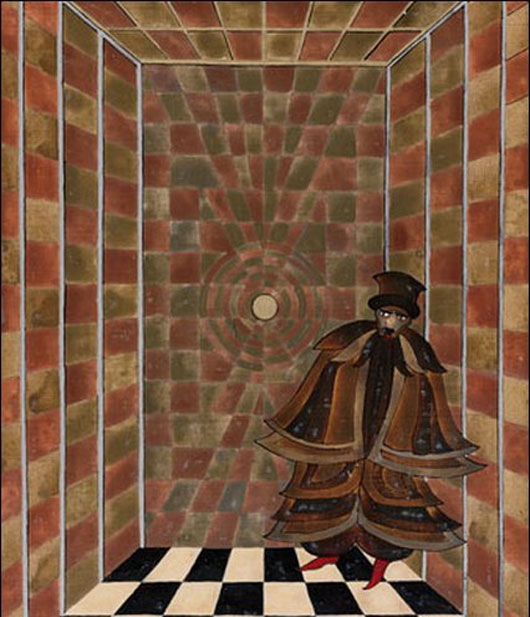 Fascinating archetypal figures from history that lodge in our psyches can also offer clues in what they reflect back to us. Keeping a notebook of dream images and symbols provide rich material about the inner "you". And while this may not feel very comfortable at first, the rewards of such personal insights cannot be overestimated.

Psychiatrist Carl Jung's The Red Book, recently published after being locked away in a bank vault for decades, is a wonderfully illustrated private journal that reveals his quest to examine the deeper self through his waking visions, dreams, and active imagination. It was clearly a painful endeavor much of the time, causing him moments of great angst and self doubt. I own the book and refer to it often. It's a treasure.

But, oh dear, looking for my less attractive side was not going to be very easy. My dream journals, thin by comparison, provided only a few clues. And I needed a costume soon!

What or who could I really be if I let my imagination fly?

When I think of that Halloween party, I think of the lyrics from the Simon & Garfunkel song, The Sound of Silence: "Hello Darkness my old friend, I've come to talk to you again.." I found myself reveling in all the psychologically dark costumes and conversations.

Milling around the bar were a banker in pinstripes and a knife-wielding football star carving a pumpkin head together. There was a streetcleaner named Desire, a powerful Egyptian Queen, a homeless person examining Marie Antoinette's powdered whig. Nurse Jackie looked for drugs in her contraband, a Chilean Miner sipped claustrophobia, and Mother Theresa exchanged bomb recipes with a terrorist. Attila the Hun sang the praises of war and several more told tales large, glamorous and untrue.

Playing out the darker sides of our unusual "masks" with a group was, I discovered, a liberating experience. It gave us a chance to accept and acknowledge the darker sides of ourselves…and have fun doing it.

Just scanning the daily headlines makes you wonder what could be the reason behind tragedies like, "8 Killed in Salon Shooting" and "Wild Animals Released after Owner Kills Self." The unseen shadow explains much of human discontent and is usually the basis for prejudice, hatred, violence and war, both personal and global.

The hidden side of ones' nature, layered far deeper than personality, is a much larger subject into which our Halloween shadow party provided just slight entry. It was just a start, but an important one.

All of us spoke up and spoke out. The French Queen mentioned her frustration at her own passivity when she let others "cut her off". Desire felt "swept away" by her passionate side. Attila, talking about his being bullied as a child, said that writing things down had helped him see his inner anger. The football legend, pushing the blond hair back under her helmet, talked about instances of rage and violence from her early life.

By using costumes and masks to assist in the process of freeing the shadow — and thereby, allowing the true self emerge — we discovered that a hidden part of the self is not always a dark or 'evil' item. The truth we learned that night is that Halloween, a holiday when we take on identities other than ourselves, can shine more light than we might have thought possible.

So, as you watch those little "spirits" tonight — princesses and Voldemorts running down sidewalks lined with grinning jack'o' lanterns, seeking candy and calling out, "Trick or treat!" — we might think about: Angels and Demons, Black Swan and White Swan, Night and Day, Light and Dark, and how each needs the other to be complete.

Happy Halloween and Long Live the Shadow!

I think I'll take my Cleopatra mask and go home now.